Do you enjoy horses? Perhaps you ride, train, compete or coach? Own or look after horses? Or maybe you simply love these amazing creatures? If you've answered yes to any of the above, this podcast is for you. And we'd love it if you'd join us. Amazing horses. Amazing Stories. Relational horsemanship. Connection. Inspiration. A uniquely positive style of working and riding horses. Get ready to dive into the rabbit hole of relational horsemanship, told through stories, education and training tips with horseman, Scott Phillips. Featuring guest appearances with other equine professionals.
Episodes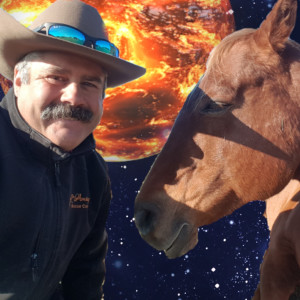 Thursday Jan 21, 2021
Thursday Jan 21, 2021
Part Two! 
Ditch and I encounter a mysterious destructive entity onboard the Olad'ya.  Then the excitement happens.  The AI begins to shut down the oxygen system!  Could things get any worse for the two of us?
In this episode, Ditch and I have to rely on our relationship, mutual trust and all of our Liberty to Riding skills.  We encounter many obstacles that we can only overcome when we work as a team.
Want to meet Ditch?  He's an important member of our herd.  Check him out, and make sure to say "hi" to him if you're ever at our ranch.  He's a personable guy!
Thanks for enjoying our podcasts and videos.  You can help support our production costs and even join our Horsemanship Mentor program.  Check it out. We'd love to have you!